Our roots run deep in Iowa, as we've raised our families here and have grown our business from a small start-up over 37 years ago, to a nationally recognized leader in the landscaping, lawn-care and snow management industry. We're proud of the team of professionals we've assembled, and the fact that we've provided careers and jobs for hundreds of families in Iowa. We're also proud that through our GREEN and sustainable practices we've protected and beautified the landscape throughout Iowa and the surrounding areas. We have an impeccable safety record, and we've kept thousands of peoples homes and commercial sites safe, clear and accessible during numerous snowstorms and blizzards.
With a focus on ecological, economical and ethical landscape, lawn-care and snow management practices, our team of certified professionals have an in-depth knowledge of the local flora, soil and turf types, as well as the environmental and construction regulations and changing weather conditions in Linn and Johnson Counties.
We're specialists in the design, installation and maintenance of beautiful lawns, outdoor living spaces, landscapes, hardscapes, and water-wise irrigation systems for your home or business. We are also professional snow removal specialists, and Greg was the very first person to become a CERTIFIED SNOW PROFESSIONAL [CSP] in Iowa. Currently, there are only five CSP's in all of IOWA with two of them working at Greg's Lawn & Landscaping.
Our values include giving back to our communities through service and philanthropic activities, as well as conducting business with many of the local companies. We've helped improve both our environment and our economy over the decades and will continue to do so. We're here to stay and we're your trusted landscaping and snow investment advisers.
We are proud of our impeccable record for keeping commercial sites and home owner's yards clean, safe, weed-free and green without using harmful chemicals.

National Association Of Landscape Professionals
NALP is an international organization serving lawn care professionals, exterior maintenance contractors, installation/design/build professionals, and interiorscapers. It emerged when PLCAA and ACLA united to form a more comprehensive association.

Snow and Ice Management Association
SIMA is a nonprofit trade organization ensuring professionalism and safer communities by helping those who manage snow and ice master essential skills and practices.

Iowa Professional Lawncare Association
The IPLCA provides a positive role for regulations and has earned the respect of regulators and legislators. The IPLCA is very involved with the national Professional Lawn Care Association of America.

Accredited Snow Contractors Association
ASCA's mission is to support and promote professional snow and ice management companies to those outside the industry, thereby improving the industry as a whole.

Certified Snow Professional
A Certified Snow Professional (CSP) is an individual who has gone above and beyond the call of the snow and ice removal professional. CSP's have taken and passed SIMA's rigorous CSP test to become the only certified contractors in snow and ice management in North America.

An Advanced Snow Manager is someone who has passed SIMA's core courses on plowing operations, sidewalk operations, and Ice management. They are dedicated to the safety of both their employees and the public during snow removal operations.

Certified Irrigation Technician
A Certified Irrigation Technician is an irrigation technician is responsible for irrigation installation and makes sure that all the equipment is functioning properly by performing regular testing. Any repairs needed on the irrigation equipment is also the technician's responsibility.

Interlocking Concrete Pavement Institute
The Interlocking Concrete Pavement Institute (ICPI), founded in 1993, is the North American trade association representing the interlocking concrete paving industry, maintaining cutting edge knowledge by putting the latest industry-consensus guide to permeable pavements at your fingertips.

National Concrete Masonry Association
The National Concrete Masonry Association is a United States trade association of manufacturers of concrete and masonry products. The association was founded in 1918. NCMA publishes methods and specifications, which are used by the industry, and are cited within professional manuals.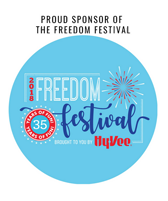 Freedom Festival Sponsorship
Are you interested in joining our affiliate program? Click here to discuss the details with a representative.